Designing an Animated, Circular Progress Bar with SVG
I needed a progress bar to demo my new product, so I copied Twitter's circular progress bar and added some extra style! 😍
I needed a beautiful progress bar to demo my new product, a polite email signup form for writers, bloggers, and creators 💁‍♂️, but I'd never built one before.
The Final Result 🤩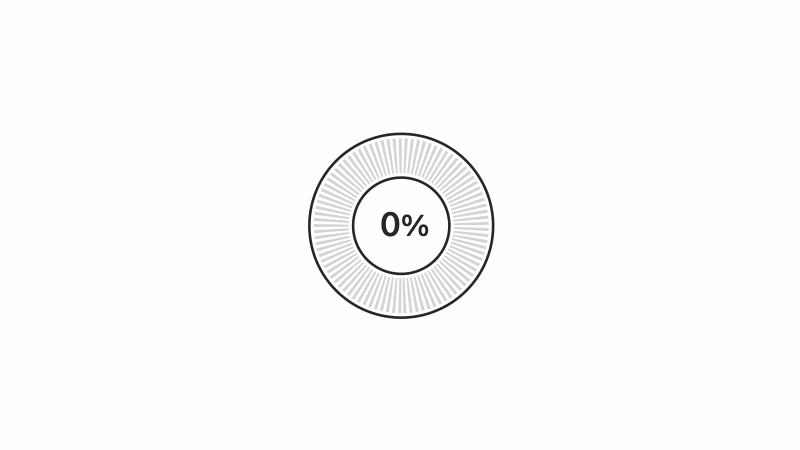 This is the final demo of the circular SVG progress bar I made after a lot of research and trial and error!
And here's a Codepen demo with all the code.
Now, let's talk about the full story — back from the beginning when I thought a vertical progress bar might be the solution. 😒
Attempt #1 (Vertical Progress Bar)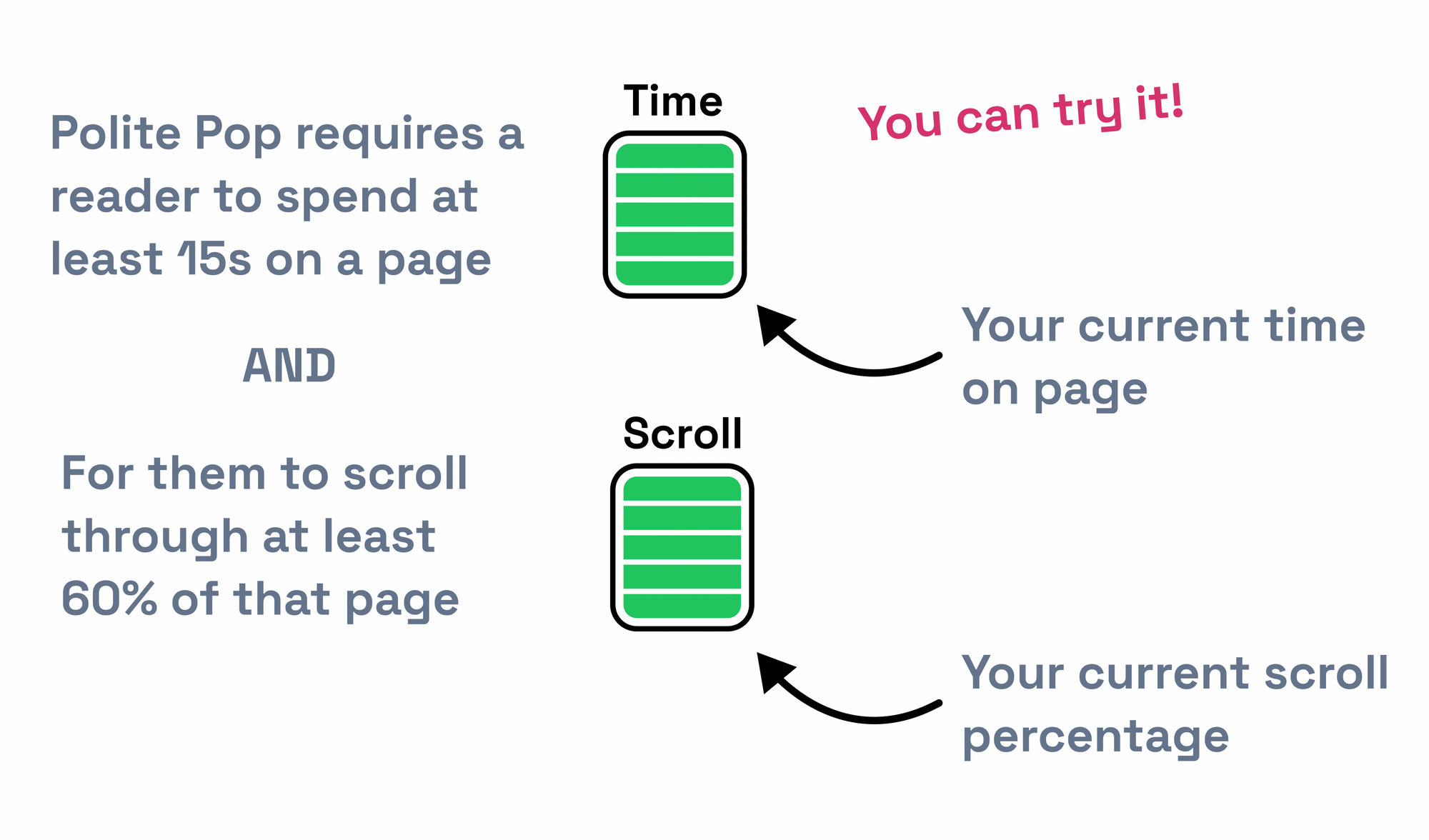 The original idea was just to show a simple vertical progress bar inspired by a phone's battery status.
But since this demo is going to be one of the first impressions get of the product, I wanted the design to be really beautiful.
Attempt #2 (Real-world-inspired Progress Bars)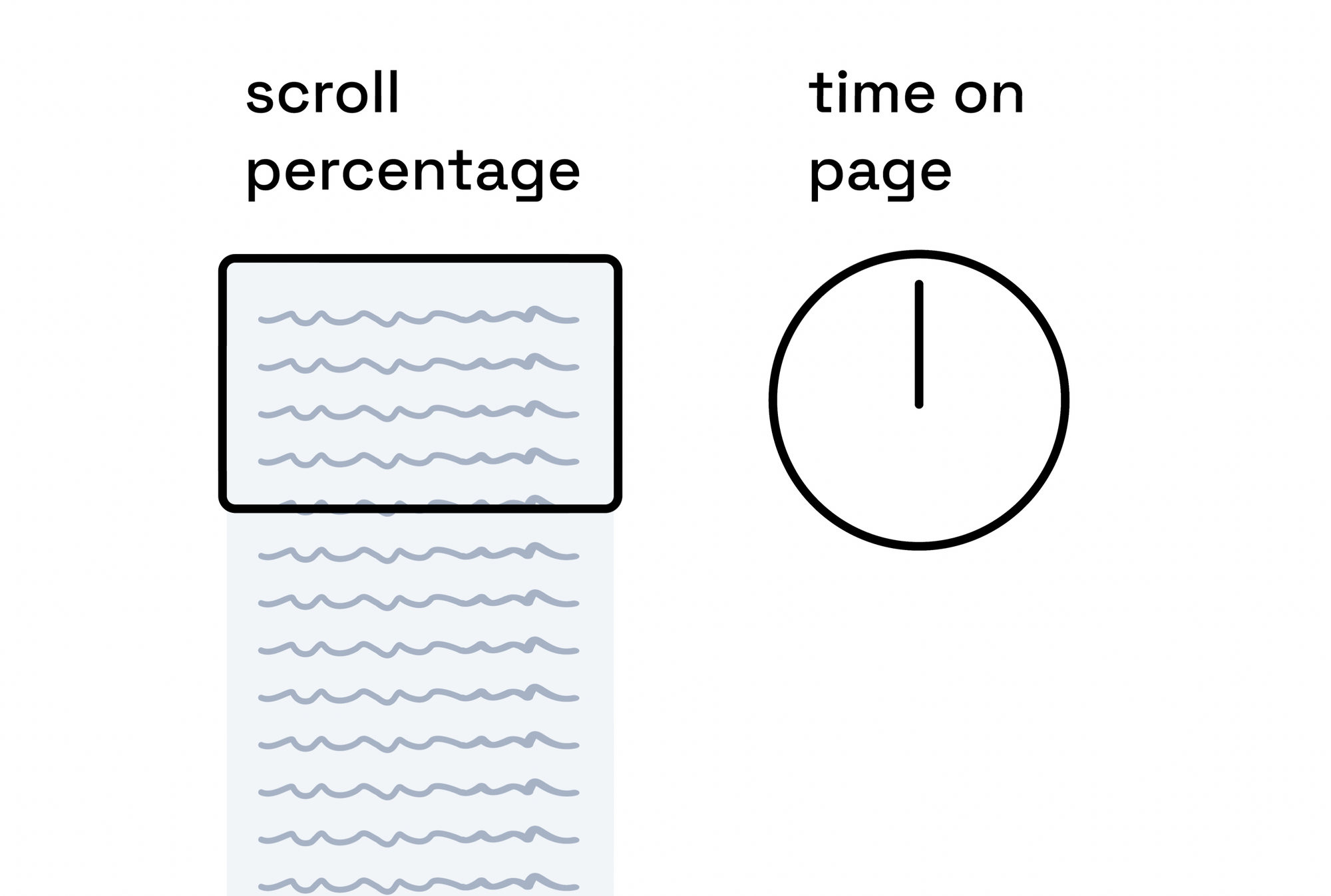 For the next iteration of the design, I went in a more creative direction that would give the user a real-world feel of what each progress bar meant.
The scrolling indicator would look & feel like scrolling the actual page.
The timing indicator would look like an actual clock.
I decided against these for one simple reason: they were unfamiliar UI elements, so the user would need (precious) time to understand them. Whereas I wanted them to intuitively understand the demo right away.
Attempt #3 (Simple Circular Progress Bars)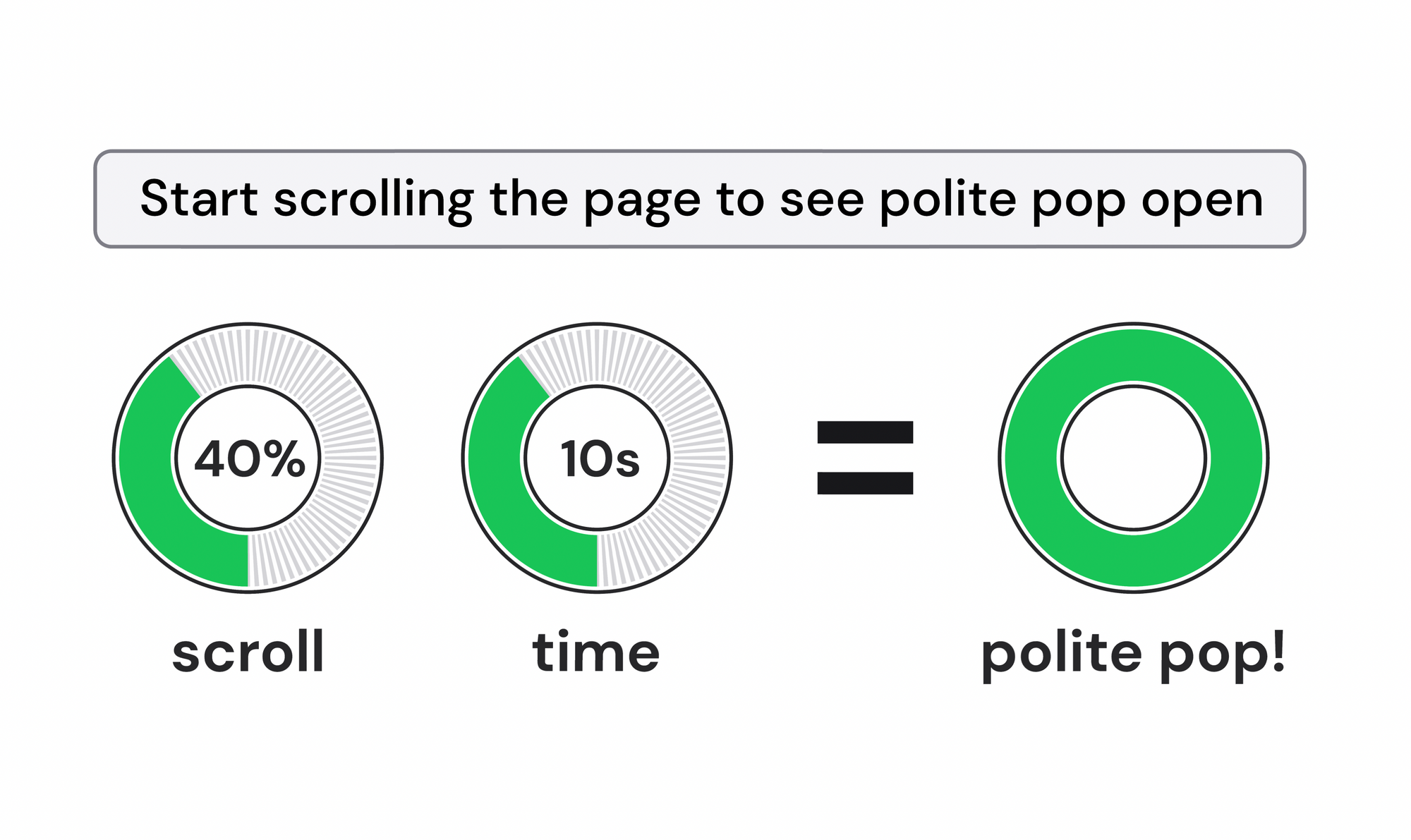 The next attempt was my favorite by far.
I've always liked circular progress bars: they're beautiful, they're intuitive, and they convey so much information in a very compact amount of space.
And the ones I designed (after watching a quick Figma tutorial) were simple, while also feeling unique and cool — like a futuristic smartwatch ⌚️
Okay, but how do I make this? 🧐
I always prefer to design before coding because then I find the right solution and not the easiest-to-implement solution. But that approach sometimes leaves me with difficult-to-implement designs that I love.
My first stop was CSS.
I love CSS — it's easy to work with, the animations are buttery-smooth, and you can implement a lot of complex designs with just a little extra thought.
My research started off strong. I found a tool that lets you generate circles with dashed borders by plugging in a few simple options.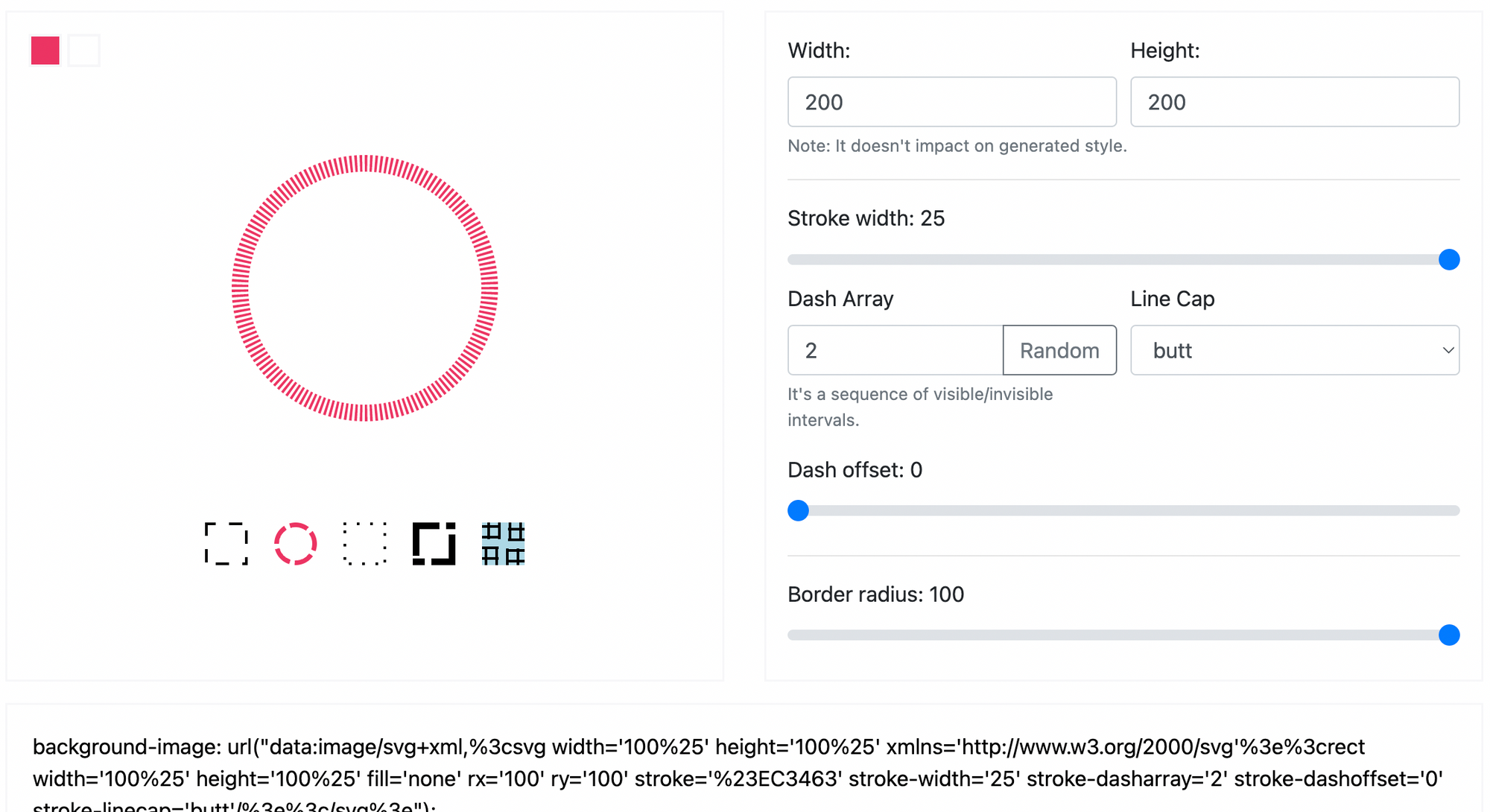 And then I found a great tutorial about how to make a circular progress bar in CSS.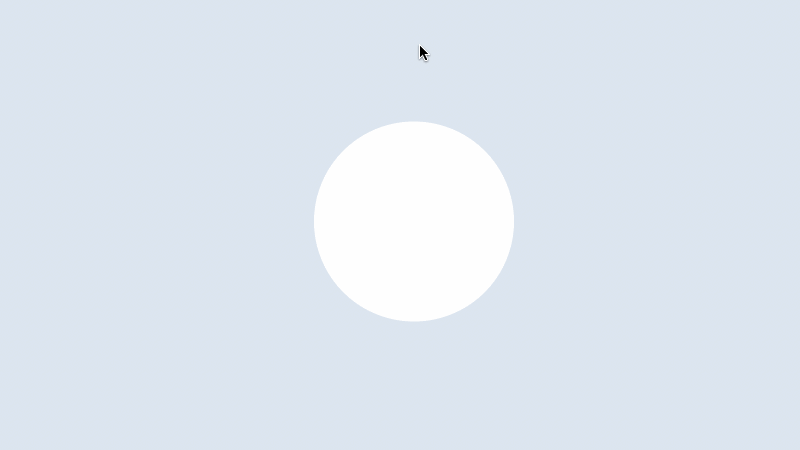 All I needed to do was put these two concepts together somehow and I'd be able to create my design with pure HTML & CSS.
But something felt off... there were a lot of hacks to get this working:
The animation was actually just two rectangles rotating around inside of a circle, so I'd have to write some code to get them to represent just on percentage number (1-100)
The animation was defined in CSS, so it couldn't be controlled from JS to represent an actual progress number unless I coded it in JS
The dashed border was defined as an SVG background image instead of being natively implemented in CSS
Despite all of this, I was prepared to go ahead with this solution.
But then I saw these comments on a Dev.to article: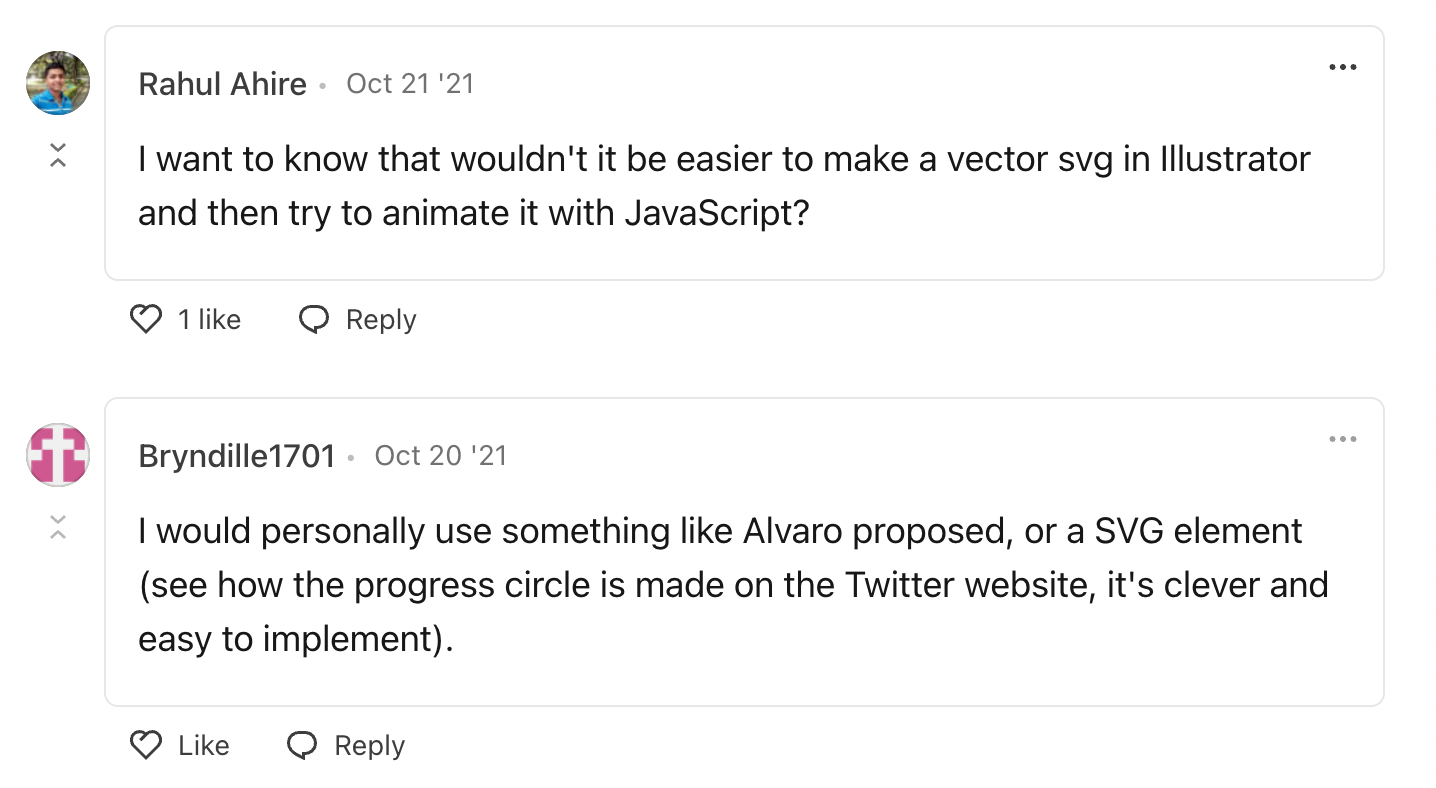 And it clicked 😊👌
An SVG!
The whole animation is just circles
Hand coding circles in an SVG should be relatively simple!
In the second comment, "Bryndille1701" even mentioned that Twitter already does this with their character counter
Hand-coding an SVG
The first thing I did was download the code for Twitter's circular progress indicator directly off of Twitter.com:
It's pretty simple, there's only a couple parts to figure out:
They draw two circles and have the blue progress circle overlap the gray background circle
The blue progress circle's length is determined by stroke-dashoffset: 12.29014; stroke-dasharray: 56.5487;, where stroke-dashoffset is the empty space that's not filled up with blue and stroke-dasharray is the circumference of the circle
They rotate the entire SVG with transform: rotate(-90deg) to get the blue progress bar to star from the top
In order to get my own design working, I just needed to play around with the circles until I could draw:
The gray dashed circle in the background
The green foreground progress circle
The inner and outer black lines that act as their borders
It was actually pretty simple.
The gray dashed circle looks like this:
<circle cx="50%" cy="50%" fill="none" stroke-width="20" r="40" stroke="#D4D4D8" stroke-dasharray="1.4137,1.4137"></circle>
The secret here is just to have a large stroke-width and use a stroke-dasharray that's small and won't cause to dashes to overlap each other (I used a factor of the circumference to pull this off).
The green foreground circle looks like this:
<circle class="progress-bar" cx="50%" cy="50%" fill="none" stroke-width="20" r="40" stroke="#19C558" style="stroke-dashoffset: 251.3274; stroke-dasharray: 251.3274;"></circle>
This one was a little harder, but not by much. It has the same width and radius as the gray circle. But we do need to define its stroke-dashoffset and stroke-dasharray.
The stroke-dasharray needs to be the circumference of the circle, we need to do a little math:
2 * 3.14159265359 (π) * radius (40)
Which gives us: 251.3274! 🎉
The inner and outer black stroke circles were easy in comparison. I just played with their radius until they looked like the design:
<circle cx="50%" cy="50%" fill="none" stroke-width="1.5" r="27.5" stroke="#27272A"></circle>
<circle cx="50%" cy="50%" fill="none" stroke-width="1.5" r="52.5" stroke="#27272A"></circle>
Adding a Progress Percentage
In the past, I've found working with text inside of SVGs to be a pain (it renders weirdly in some browsers and on some machines).
So for the progress percentage, I decided to code that up in raw HTML and just layer it on top of the SVG.
<div class="progress-text-container">
  <div class="progress-text">
   <span class="progress-text-inner">0</span><span class="progress-text-percent">%</span>
  </div>
</div>
Drawing a Success State
The last thing to do was to show what happens when the progress percentage reaches 100%.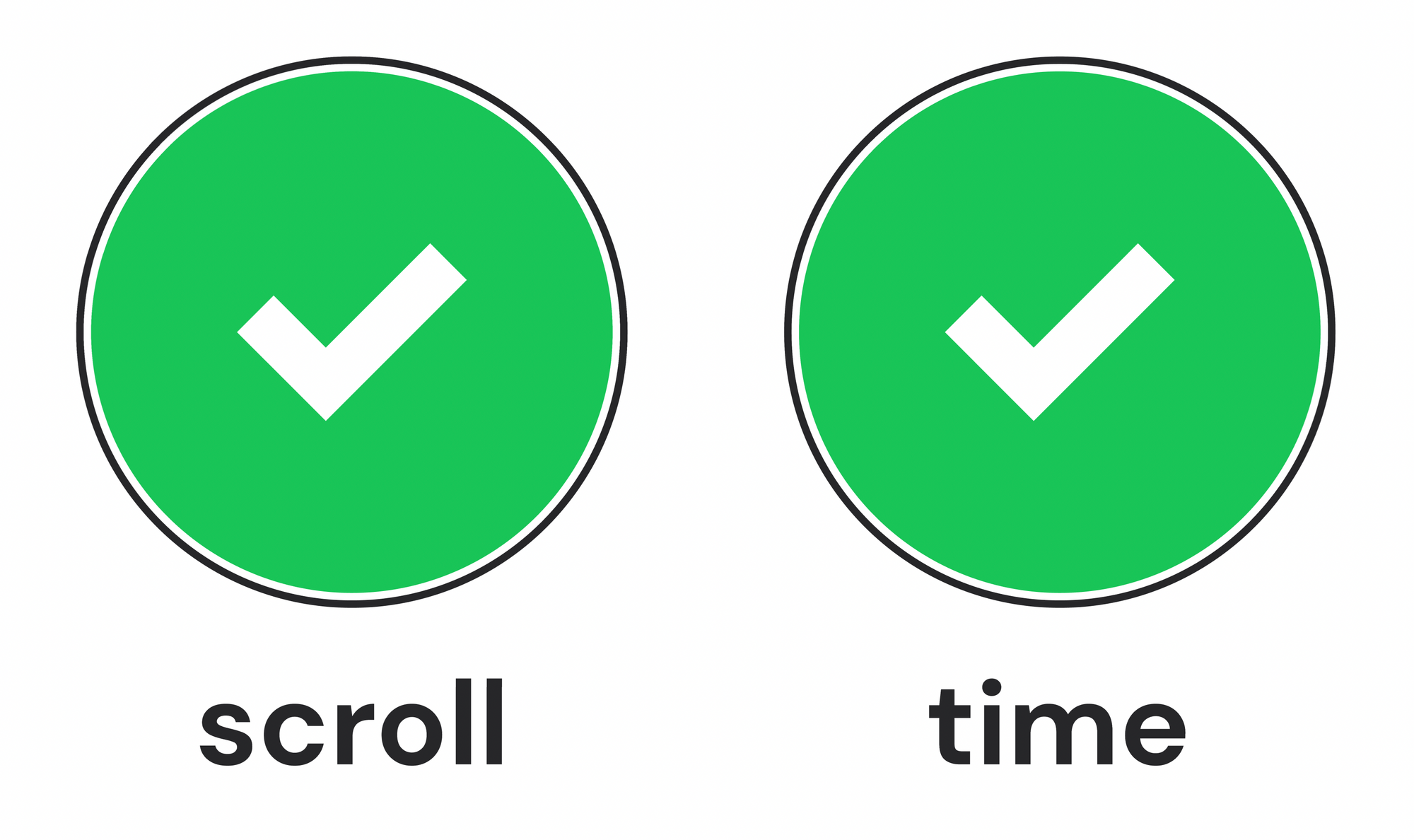 This was actually a lot of fun. It was hard because the checkmark would be rotated 90 degrees just like the rest of the SVG, so I needed to draw it sideways, but other than that it was just a big green circle with a simple polyline (what you use in SVG when you want a line that bends).
<circle cx="50%" cy="50%" fill="#19C558" r="50"></circle>
<polyline points="52 74, 65 60, 40 36" stroke="#fff" fill="none" stroke-width="10" />
Demo (Putting It All Together)
Then I just needed to code up the JS to animate the progress bar and change the progress text — and everything worked!
Recommended reading: "How to Code SVG Icons by Hand" (an amazingly helpful guide that clarified viewbox, polyline, and showed me how hand-coding SVGs isn't that hard!)